Seismowin
The project SEISMOWIN consits in a software suite usable in seismology, geophysics and engineering field.
The picture below shows the front-end of the software with the ideal work flow and relation between the various modules.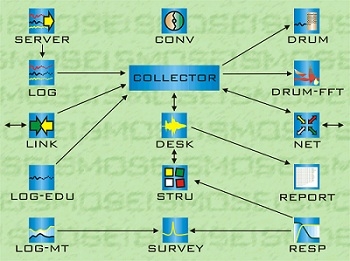 SeismoSERVER


SeismoLOG
This module handles the data flow and recording, creating the DATALOG, the event files, DRUM and DRUM-FFT.
SeismoLINK


SeismoLOG-EDU
The module handles the EduGeo acquisition.
Please install drivers before run this software.
SeismoLOG-MT
This module handles our GeoBox for the l'HVSR.
Please install drivers before run this software.
SeismoCONV
This module allows to change the format of a file to different data format and works as support software automatically for the other software.
SeismoDESK
This module allows to analyze the event file recorded by SeismoLOG or directly from the event recorded by our station (SL06, VelBox, AceBox or EduGeo) manually or in the automatic way.
SeismoSTRU
This module allows to design a new network, to define codes for the stations, networks and manage the crustal models.
SeismoSURVEY
This module is a calculator over the signal, allowing different kind of operation and elaborations.
SeismoDRUM
This module converts the DRUM files created by SeismoLOG to an image file.
SeismoDRUM-FFT
This module converts the DRUM-FFT files created by SeismoLOG to an image file.
SeismoNET


SeismoREPORT
This module handles all the declared event by SeismoDESK and collect online information of the official event location from official authority, showing the database on a map and with a time view.
SeismoRESP
This module allows to create the RESP file of a station for the deconvolution the raw data in the velocity, acceleration and displacement domain
Under request:.
SeismoSCAN
This module allows to perform a big data event search with big DATALOG.
Gallery
Additional documentation